Formula 3 are all 2-litre, 4-cylinder naturally aspirated spec engines. Engines must be built from a production model block (stock block), and often must be sealed by race or series organizers, so no private tuning can be carried out.
Now this is going to be long but check out this impressive list of the lengths the guys from the RSR team have gone to for this mod to be so amazing.
– Realistic physics, based entirely on real life data, verified with telemetry and driver feedback. Same laser scanned track, same car, same setup, same driver.
– Suspension and dampers modelled in details, after measuring them on the real car.
– full analysis on suspension geometry and dynamics (Roll Centers, Anti Squat, Anti Dive, KPI, Caster, Tyre Offset,Scrub Radius, Springs and Damper Rates, Critical Damping, Suspension Travel and so on)
– Fully spec'd aerodynamics. Advanced mathematical model created to fit with minimal loss of information, the complex aero measurements into AC aerodynamics model.
– the model is taking into account also wings interactions (disturbance of the front wing angle on the efficiency of the rear wing).
Since it's not possible at the moment to model this in a dynamic way (hopefully in pipeline at KS), the mathematical model I've worked on, it is tuned to get realistic aero balance altering wings. Optimal results on commonly used wing angles.
– Front Spitter, underbody and Diffuser stalling at realistic height
– Tyres modelled in detail. Tire wear tuned with the help of the driver, tyre grip from official tyre manufacturer data. Dependency on pressure, temperature, real tyre rates and so on.
– 3 different tyre compounds. The only real one is the AVON Medium tyre, the other tyres are created with plausible modification from the official one.
– Engine tuned with realistic drive train loss. Fuel consumption tuned with real measurements.
– Setup screen based purely on real values. Real gear ratios, wings modifications, suspension/damper settings, min/max values adjusted to real values.
– Brakes calculations to match real values
– Throttle position from measurements
– Gearbox timing tuned with telemetry data
Impressive Huh…
Credits to everyone at the RSR Team for this amazing mod!!
V3.0 is OUT!
3D Model
Improved 3D and shaders
Added chromo, opaque and metallic effect (thanks to Marco Calesella for his help)
Several parts completely remodeled:
rear wing
rear diffuser
tyre profile (the thread is now much more visible)
steering wheel is now fully modeled in 3D. Small bolts, display screen and so on.
rear light is now also remodeled in 3D. The rear light is now blinking in the pitlane
new tiny details on the interior
3D optimization to improve performances
New LODs
Added seat belts (created by Marco Calesella)
Driver helmet is now appearing in the showroom
New delta function added to the steering wheel display
New internal/external cameras
Added dashcam
Tuned driver head movements
specific VR modifications:
Oculus KN5. The package includes also a specific KN5 optimized for the Oculus. The only difference are the RPM lights that are more visible also in case you are not using post processing effects. Just use the kn5 included in the f312_oculus.zip
During our tests we've noticed that in some systems the driving position is a roughly meter higher that is should be. The driver eyes position seems to be ignored for some reasons.
A similar issue has been reported for official cars as well. Hopefully we will be able to fix this issue in a near future.
As a workaround use the official app to save the correct position. You just need to do this once.

Open the app Onboard settings
Press:
Exit from the AC session.
Enter once more.
skins
added new skin Scuderia MRT (created by Marco Calesella) as an example of the new chromo effects introduced in the new version.
added seatbelts_textures_package. Those are created as skins for easy preview in the showroom. You can use those seatbelts of different brands in your own skins simply copying textures in your skin folder.
Sound
Sound upgraded to the new fmod project structure (updated by Davide "elMariachi90" Cervone).
Physics
Tyres upgraded to the newest tyre model v10 and fine tuned.
Tyre radius dependent on speed, calculated based on tyre manufacturer specs
Tyre falloff tuned to have a realistic feeling when losing grip
Improved tyres behaviour in fast changes of direction. The car has a now more direct response.
Improved overall force feedback feeling. The car is now more communicative. You will feel more even smaller bumps on the track. The wheel feels also a bit stronger.
Improved car behaviour on corners where there is a fast change of track camber, like the last chicane at Spa
Brakes pads efficiency based on real data
Thermal model for brakes. Driving feeling with cold brakes has been verified with Omicron Motorsport's drivers
Added aero dependency between wings in the aerodynamic model. For example, increasing the angle of the front wing does change the efficiency of the rear wing. The new aero model is much more complex than the previous model to achieve better correlation to the experimental data. There are still few limitations that we hope we could address in the future.
Tuned damage model for the aerodynamics.
Refinement on dampers model based on new document provided by a user on RD. In the setup screens dampers options are now shown in steps for easier selection of the 8 settings available on the damper knob.
Steer assist set to 100% by default instead of 50. It's still possible to change it anyway in the car setup screens. Best results with FF postprocessing configured correctly.
Fixed downshift profile causing the car to slightly lock the rear during downshifting
Changed step for ARBs to be make the selection easier
Added fuel consumption for accurate fuel estimation for AI (no changes for driver fuel consumption that was already tuned to the same number)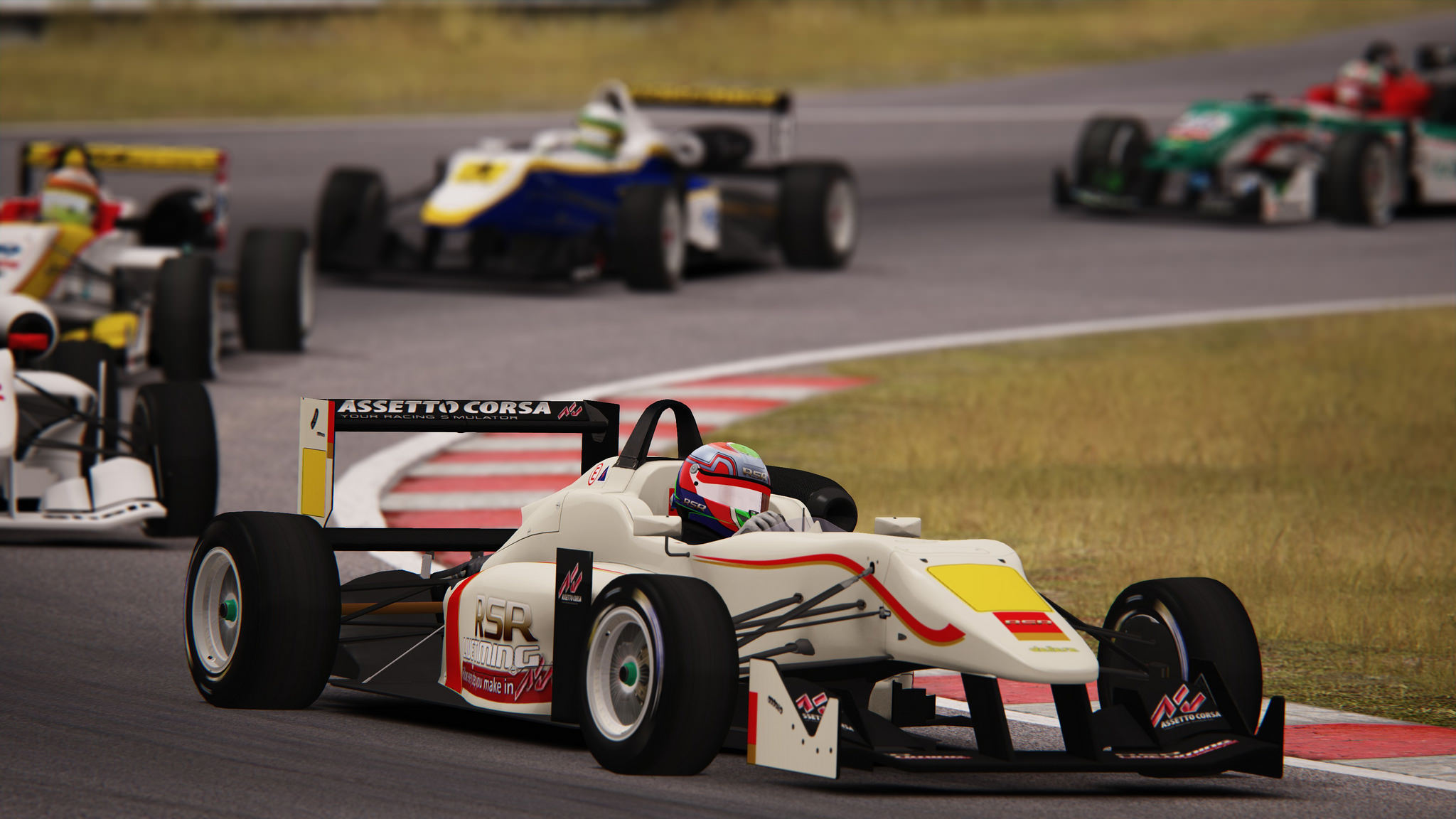 Assetto Corsa RSR Formula 3 Download