Virginia International Raceway
This is probably one of the most impressive mod created tracks I have ever seen!
Virginia International Raceway (commonly known as "VIR") is a road course located in Alton, Virginia. VIR hosts amateur and professional automobile and motorcycle events, driving schools, club days, and private test rentals. It is most famous for hosting the IMSA Weathertech Sportscar Championship which takes place every August.
The track itself has been painstakingly modeled from scratch using several sources of technical data, countless photographs, hours of video footage and real world feedback from drivers and racers.
It contains all seven layouts: Full, Grand East, Grand West, North, South, Patriot & Patriot Reverse. All are fully functioning with AI. Each layout has it's own look and feel in accordance with real life. The 'Full' layout is 2016 race spec as you will see it in the Sportscar Championship/Oak Tree GP
A huge amount of effort went into this project. We hope you enjoy it.
Please take the time to check out the release notes included in the download.
Installation
Extract the vir folder from the archive to :
C:\Program Files (x86)\Steam\SteamApps\common\assettocorsa\content\tracks
Credits
PM. Lead modelling and textures: Darren Blythe
Additional assets and textures: Rigel
UI Images. Research, photography, driver feedback and testing: Arthur666
Additional Camera sets: Norbs
Texture/AI improvements. Help, advice and QA: Lilski
Trackside marshal models kindly donated by Brun. Misc. RV's by TarusX
WIP Testing: Richard Thompson, Piotr, Jeremy Ingraham
Donation
If you enjoy this track please consider buying a beer for the team who have worked incredibly hard to bring this amazing track to life. Not compulsory but very much appreciated
V1.1
Complete shader rework by LilSki for improved lighting
Misc texture improvements
New AI throughout
Road edging improved
Oak Tree tyres moved off kerbs
DRS Zones for Full, Grand East & Grand West added (2 zones on Full & Grand East. 1 zone on Grand West)
Fixed wonky cambers in T3, T6 & T10
Fantastic new camset by Black Wagtail (full layout)
Bit of housekeeping on the JSON and other ini files
Minor performance optimizations
Fixed Patriot cam behind tent
Reduced footprint of Patriot pit apron to avoid accidental slowdown if you run wide at the last corner
Fixed a number of sticky walls
A couple of smoothing issues fixed
Some flickering textures fixed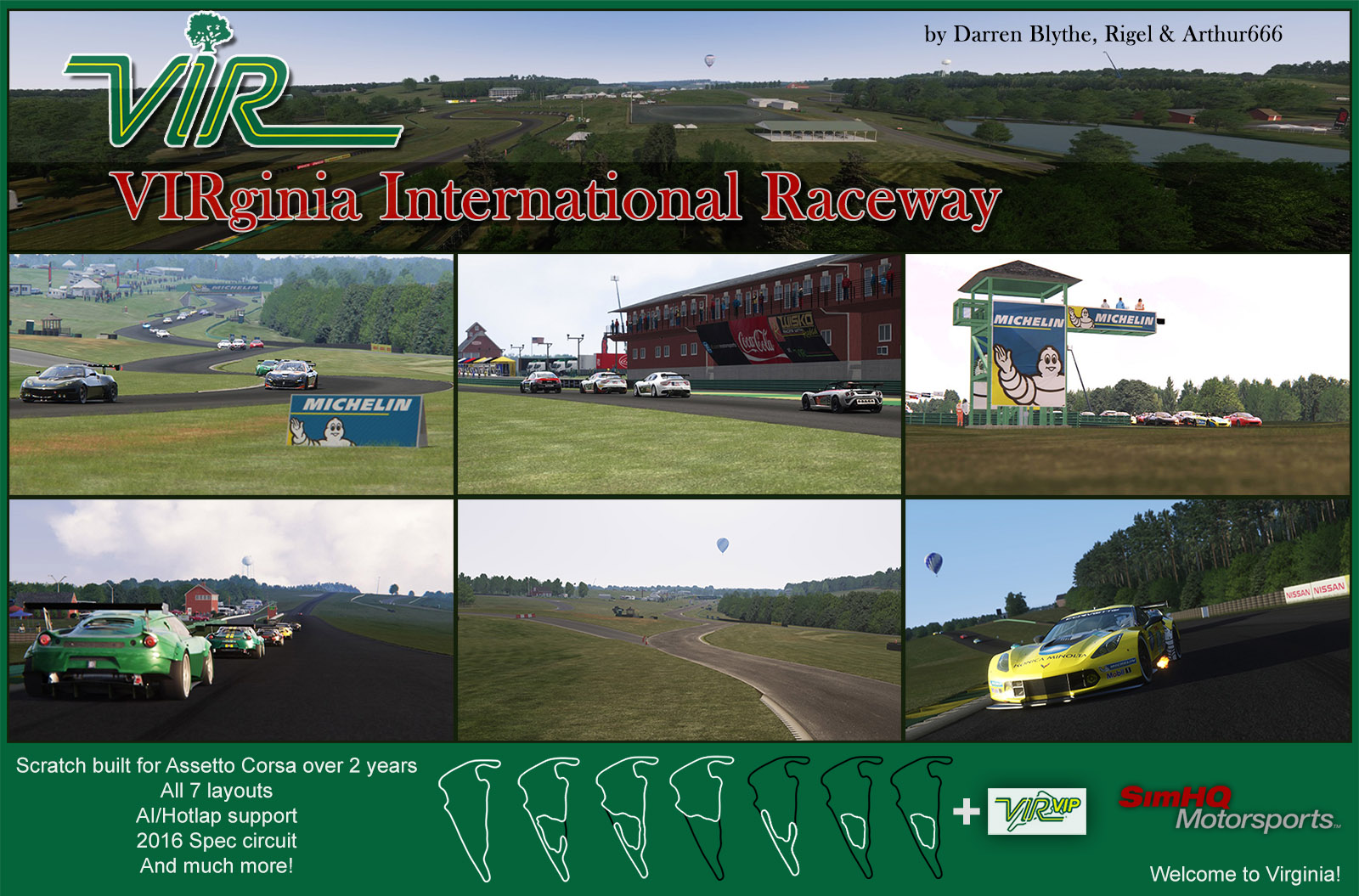 Assetto Corsa Virginia International Raceway