Lake Louise Loop Road is a fantasy track mainly made for having a bit of fun. It is a very fast open track and very free flowing. Its an epic 22.8km venture along a mountainside with some amazing cambered corners, twists and bumps. Depending on how fast your going your car may also catch some air!

Features
23 km/50 km* of undulating and exciting roads, from single-lane bumpy mountain paths to four-lane wide highways
High definition road surfaces for amazing force feedback
Varied road surfaces for different driving feel
5 / 12* layouts for AI racing, multiplayer cruising, or uphill/downhill drifting
Bravery testing jumps and breathtaking views
Reverb and echo sound effects
*In "Donate whatever amount you like" version
DONATE!!!
I cant even imagine the time it took to make a track like this. I'm going to assume somewhere in the range of about a bazillion hours and 400 beers.
If you like the track please donate to them which not only helps them create more new content but also gives you access to the full track!
If you donate HERE you can then go to http://download.racelakelouise.com/ and enter your email address to download the full version.
Credit: Lucas – Xtremepsionic and Dominic Munn
v2.08
Increased lod of roads from 400m to 1200m due to bug with rift users not seeing road
Tweaked West fwd/rev, lake fwd/rev and west downhill AI lines so they're competitive and less prone to crashing
Camera files for the above layouts are included thanks to the amazing fans on the forum!
V2.07
Fixed invisible wall on Lake Loop layout
V2.06
For people who didn't have beta access, there has been many changes compared to V1.6
Improved and longer layout, loop is now 23 km
Forward and reverse directions for the Original West layout
Forward and reverse directions for Lake Loop layout
Fixed barriers which flipped cars
More realistic mountain shapes and much fewer polygons for better FPS
Trees now have collisions on trunks only
29 pit slots anew new pit lane
Multiplayer free roam version (with no AI line or camera however, that's how AC works)
New objects and textures
Echo sound effects
Detailed physics layer for great FFB
…and so much more! The list literally goes on for pages, so you should just drive and find out
Please see PDF inside the zip files for printable map and info of the track, thank you! A reminder that the 23 km free roam map will only have 23 km of road, you will fall through the road if you drive off the red Lake Louise loop.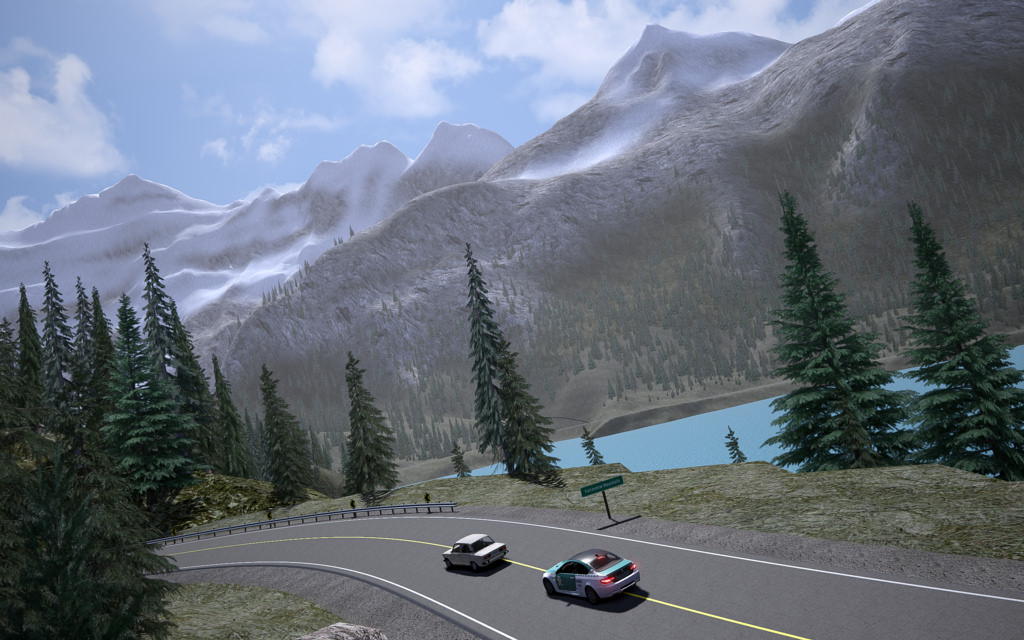 Assetto Corsa Lake Louise Loop Road Download