Toyota Corolla AE86 Drift – RB26
|
The AE86 generation of the Toyota Corolla Levin and Toyota Sprinter Trueno is a small, lightweight coupe or hatchback introduced by Toyota in 1983 as part of the fifth generation Toyota Corolla lineup. For the purpose of brevity, the insider-chassis code of "AE86" depicts the 1600 cc RWD model from the range. In classic Toyota code, the "A" represents the engine that came in the car (4A series), "E" represents the Corolla, "8" represents the fifth generation (E80 series) and "6" represents the variation within this generation.
The Levin has fixed-headlights, and the Trueno has retractable headlights, both could be hatchback or coupe. The export model name Corolla covers both variations. The AE86 (along with the lower spec 1,452 cubic centimetres (1.452 L) AE85 and 1587 cc SR5 versions) was rear wheel drive (unlike the front wheel drive CE80, EE80 and AE82 models), and is among the last rear-drive cars of its type, at a time when most passenger cars were being switched to front-drive. In 1987, there was a limited edition model of the AE86 called "Black Limited" that served as a send-off model before the AE86 chassis was replaced later that year by the front wheel drive AE92 Corolla/Sprinter range.
In the the cars original form it was a pretty fun beast to drive, and even the Kunos version had upped the power a bit which made it nice to drive.
What I did to it….
RB26DETT Conversion making 500HP+ on full boost (1 bar)
Allowed setting to set 100% dif lock
Added additional final gear ratios
Added adjustable boost (Use 1 to 0 keys)
Added RB26DETT sounds (Kunos)
The car spawns at 50% boost which is 0.5 bar which is more than enough boost to have huge slides. But if you get bored bump it up and go mental!
Credits: Scott – AcMods.net
Paul Wallace for helping me figure a few things out.
V0.8
If you find any bugs or have any issues / suggestion please let me know.
Please do NOT upload this mod anywhere else and please do NOT edit it.
Enjoy!
**REQUIRES YOU TO OWN JAPANESE PACK**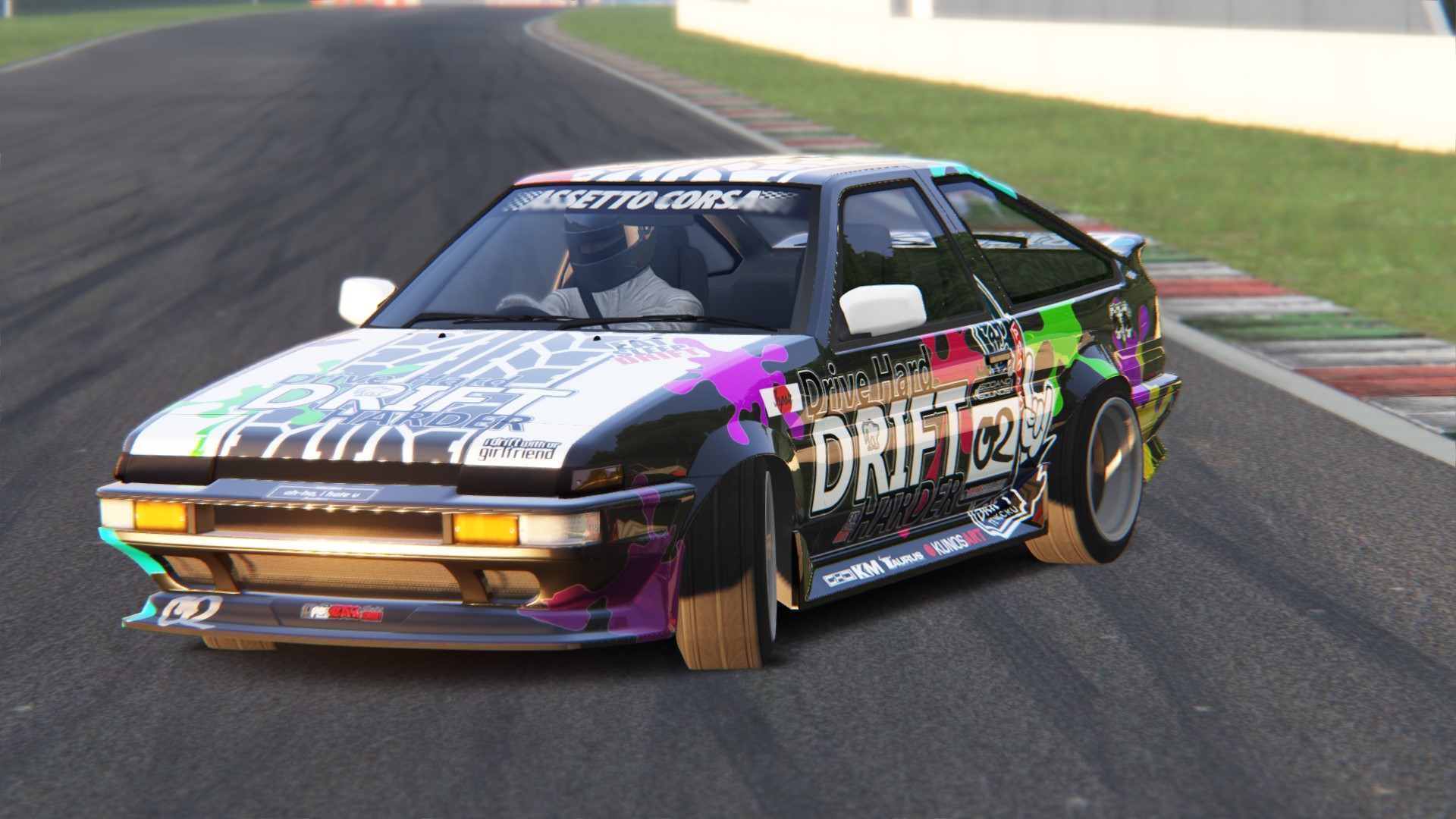 Assetto Corsa Toyota Corolla AE86 Drift – RB26 Download