With the arrival of 4wd physics on Assetto Corsa, Now we can create exotic and legend cars that have made racing history!
Here is the iconic Citroen DS3 WRC Car.
Citroën DS3 WRC – Credit and Men at Work:
Garyson: Original 3D Model and basic template…
Felipe Vaiano + abbo90: Physic engineer, geometry, tyres and behavior car and more…
peksis: Conversion 3D model in game, KS Editor, animations, shaders, light, LCD panel and more…
Neverkrash: Sound Designer, advice pre release, test in game, and more…
TTM: Maker some livery and help graphic, suits, gloves and helmets all driver and more…
nikkk78: 3d improvements, new textures, some livery, changes and preparation of the 3D model, increased realism and quality and more…
x4fab: great help, tips and more…
If you like their work DONATE HERE
V4.0
– New real sound By NeverKrash;
– New shadow effect by x4fab;
– New smooth group – added Co-Driver – new glass adjusted and more by peksis;
– New Physic by Felipe Vaiano + Abbo90: Adjustment steering – engine curves – differentiated shifting timings and gearbox inertia's – gearbox ratios following FIA limitations – differentiated damping and spring model based on known used technology – little aerodynamic and weight distribution tuning,
– Base Template Added (.psd format ).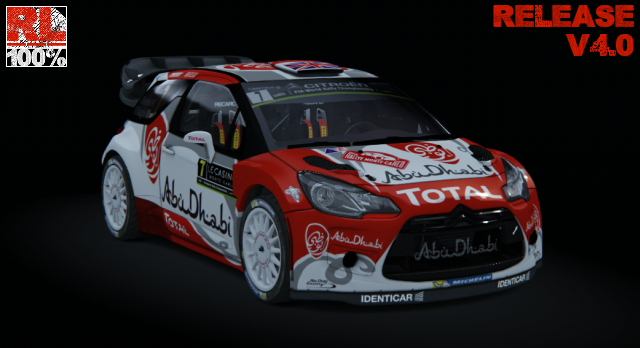 Assetto Corsa Citroen DS3 WRC Download